Blog
Small Details Matter: How New Paint Can Encourage New Residents
The Rule of Thumb
You know how important routine maintenance is on your properties- including everything from roof repairs to repainting. But, how do you know when to repaint? Waiting until you notice faded and peeling paint is just asking for trouble. A good rule of thumb, especially in humid environments, is to inspect and paint your exterior surfaces approximately every five years.
Why should I repaint? There are several reasons why it's important to keep your properties looking pristine, and it's not just to keep it attractive. Chipped or peeling paint can lower your property values. If your exterior surfaces are left in a state of disrepair, people looking at your property may think that this neglect is a reflection of the way things are managed at the facility overall.
Your buildings' paint is akin to your skin. It protects the exterior surfaces from the elements. If the paint is chipped or peeling, wood siding or trim may begin to rot. Rotten window sills can lead to cracks in masonry.
If you want to encourage new or existing residents in your community, then paint color can say a lot. The choice of paint colors can have a strong influence on how you feel. For instance,
Warm tones like oranges, yellows and reds or earth tones such as brown and beige may prompt conversations. People feel comfortable in such a room and are encouraged to sit and talk.
Yellow or red are both good colors to go with in the kitchen. Red will even stimulate your appetite.
When it comes time to relax, cool colors such as green or lavender are calming; they make great choices for bedroom colors.
White, green, or turquoise are all good choices for bathroom décor. They give one a sense of clean.
What work needs to be done before painting can begin? Ensure when preparing to hire a painting contractor that you know what services are included in the cost of repainting. The company that you decide to hire should also offer to pressure wash all of the surfaces that you plan to paint if needed. Any repair work such as caulking and waterproofing should be completed before painting begins.
How is this going to inconvenience the residents? Repainting the exterior of your buildings will be a minor inconvenience to the residents, but there are ways that you can keep it from becoming a major one. First, make sure that you inform your residents well in advance of the work. Let them know the days and times this or any other project will be taking place and what that work will entail. Notify residents at regular intervals leading up to the work in order to remind them, for example at one month, two weeks, and a few days before. They should be made aware of anything that is expected of them. Will they need to move their vehicles? Will they be expected to use alternate entrances? This will create an open line of communication for you, your residents, and your contractor to ensure a smooth and successful project.
To learn more, download our Five Factors that Impact Paint Selection for Apartment Complexes E-book.
Related Content
Blog
Understanding Resident Concerns when Painting Healthcare and Senior Living Communities
Concerns to Consider While Painting A Senior Living Community There are currently about 1 million seniors residing in residential communities […]
Read On
Blog
Paint vs. Coating, What is the Difference?
As facility and property managers, your job requires you to make decisions on when and how to maintain, upkeep and […]
Read On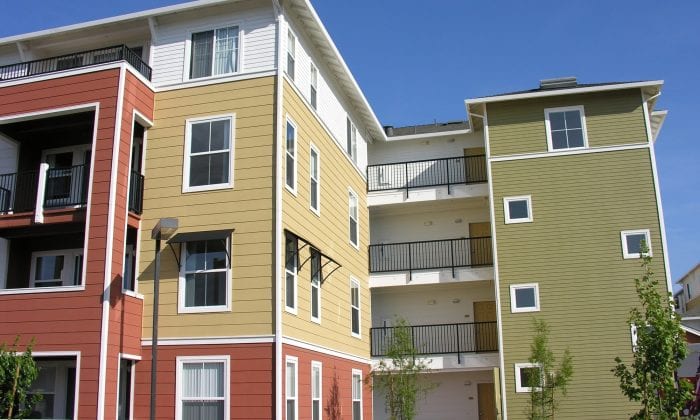 Blog
Selecting Colors for Multi-Family Residential Properties
First impressions last a lifetime, or at least long enough for a prospective resident to drive by. Few exterior characteristics […]
Read On