Blog
How to Retain Residents in Multifamily Properties
Factors to Retain Residents
Multi-family properties have seen a lot of demand, growth and investment over the past years. One question that many multi-family property owners have not yet been able to answer is, how to improve multi-family occupancy rates. Like many businesses, to answer the question of 'how to attract more residents to my property' can be easily answered by considering some basic factors.
Target Market
Every product has to have a target market. With multi-family property, you might want to target a certain group meeting certain criteria depending on age, income, or number of family members. A target group may be more inclined to take up residency at your multi-family property if 'people like them' occupy the complex.
With this in mind, it would be wiser to target a group that is very flexible and timeless in the sense that they do not do things with a bias to age. While millennials might be very unpredictable, older people might have more demands.
Quality
Residents will be more drawn to quality in most cases. It is of paramount importance that you provide the absolute best quality service to the residents to keep them for long spells and attract more renters.
Amenities
Being able to provide a little bit more than is expected might be the difference between having a fully occupied multi-family complex and trying to get renters. Providing amenities like Wifi, a swimming pool, a playground, a dog park etc. will keep renters satisfied.Having unique amenities is a plus.
Repair and Maintenance
Having the property is one thing, but maintaining it to an acceptable standard is another. It is not wise to overlook needed repairs or to focus solely on independent projects. Residents want their investment in the property to show. Delaying on routine maintenance and needed repairs will not improve multi-family occupancy rates.
Rules and Policies
When compiling a list of acceptable alterations for your residents, it is important to remember that this will be their home. Rules and policies are necessary in maintaining a clean, welcoming environment for all to enjoy. Offering acceptable options and remaining flexible when you can, will allow the residents to feel more comfortable in their space.
Advertising
Having your multi-family property in excellent condition and installing some luxurious amenities to it will only take you so far. Investing in some form of advertisement and having a blog/website for your property will take you to the next level. Budgeting on periodic advertisement will help to ensure all your rental units are occupied, and are in demand.
Attracting renters and improving multi-family occupancy rates will come down to what a particular resident wants, whether or not you can deliver their requirements and what compromises can be reached. There is no standard way of keeping residents or attracting more residents to your property, but with keeping the above factors in mind, you are bound to get positive results.
Download the Condo Association's Guide to Making Color Selections to learn more!
Related Content
Blog
Understanding Resident Concerns In Senior Living Communities
Concerns to Consider While Painting A Senior Living Community There are currently about 1 million seniors residing in residential communities […]
Read On
Blog
Small Details Matter: How New Paint Can Encourage New Residents
The Rule of Thumb You know how important routine maintenance is on your properties- including everything from roof repairs to […]
Read On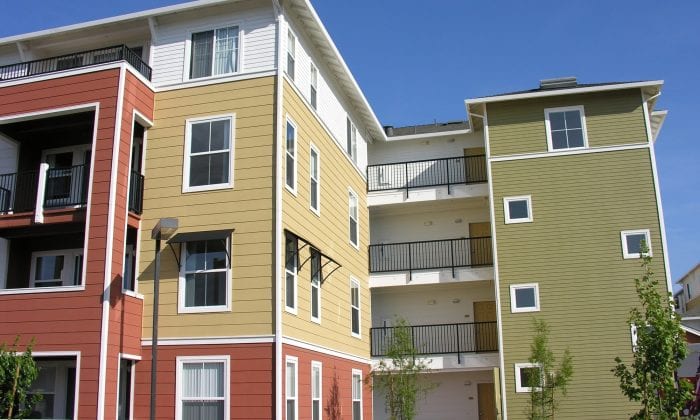 Blog
Selecting Colors for Multi-Family Residential Properties
First impressions last a lifetime, or at least long enough for a prospective resident to drive by. Few exterior characteristics […]
Read On