Case Study
Brightening Dixie Gardens in Miami, Florida
Dixie Gardens, a Condo/HOA community held by the Ardent Property Group, in Miami, Florida, was seeking a professional painting, coating, and repair partner to help them address their needs. This included things like aesthetic improvements to increase curb appeal and various repairs to help prevent further structural damage and water intrusion. The main purpose of the project was for them to refresh their living community with new paint and some minor repairs. The project posed some unique challenges, including our team taking the lead in obtaining permits for their project from the City of North Miami.
Conditions
We completed this project for the Dixie Gardens community before the rainy season. This allowed us to work in mostly dry, 65-80 degrees weather for the duration of the project. With conditions like this, our team could avoid any weather-related delays.
Challenges
The key challenge our team faced while completing this project was coordinating and working with the City of North Miami to obtain all the ‌permits needed to complete the project. Other than that, there weren't any other major challenges that our team faced.
Process
Scope
Our team worked with the Dixie Gardens multi-family community to learn more about their upcoming project and the specific needs they wanted addressed. This helped us better understand what was driving the project, why they wanted to complete it now, and what outcome they were looking to gain from the completion of their project. Ultimately, they wanted to brighten their buildings with new colors for a more modern appearance.
On-Site Analysis
We met with them on-site to examine and evaluate the needs of each building in their community. This allowed our team to ensure that everything would be addressed, even down to the smallest details, and that we'd be able to provide high-quality, long-lasting results the community could enjoy for years to come.
Proposal
Our team shared what we found based on our initial scope discussions and on-site analysis. The Dixie Gardens community could then better understand the costs associated with their project, what types of paint or coating products are necessary, and the warranty they'd have once the project was completed.
Pre-Construction
Prior to beginning work on-site, our team introduced who would be the community's main point of contact throughout the duration of their project and made sure everything was coordinated.
Scheduled Communication
Throughout the duration of the project, our team provided detailed communication to help our customers stay aware of what was happening at each project stage. This was especially important because we needed to paint, coat, and repair many structures, including:
Painting and/or Coating
Facade
Railings
Floors
Breezeways
Pool Deck
Parapet Walls
Parking Garage
Ceilings/Columns
Gutters and Downspouts
Common Doors
Resident Doors
Screen Enclosures
Repairing
Stucco
Masonry Concrete
Sealant Removal and Replacement
During the project, our team used products like Loxon Conditioner and Loxon Self Cleaning on the facade of each building. We also used Pro Industrial Pro-Cryl Universal Primer and a Water Base Alkyd Urethane on metals. Whether we were providing photographic or verbal updates, our team made sure our customers had all the information they needed to feel confident in the progress of their project.
Final Walk
Once all the painting, coatings, and repairs were implemented, we did a final walk-through around the community to make sure the project outcomes were predictable and met their expectations. Our team was very pleased to see the Dixie Gardens community so pleased with the results.
Timeline
From start to completion, our team was able to complete this project on time with no changes. This allowed us to not only provide Dixie Gardens with predictable outcomes, but also a predictable timeline.
Outcome & Benefits
The new paint, coatings, and repairs our team implemented gave the Dixie Gardens community a brighter, more modern, refreshed look. They were so pleased with the outcome of their project that we received a 10/10 net promoter score, as well as two additional opportunities to work with the Ardent Property Group at two of their other properties in South Florida.
To learn more about how we can help your multi-family property, connect with a member of our team today!
Related Content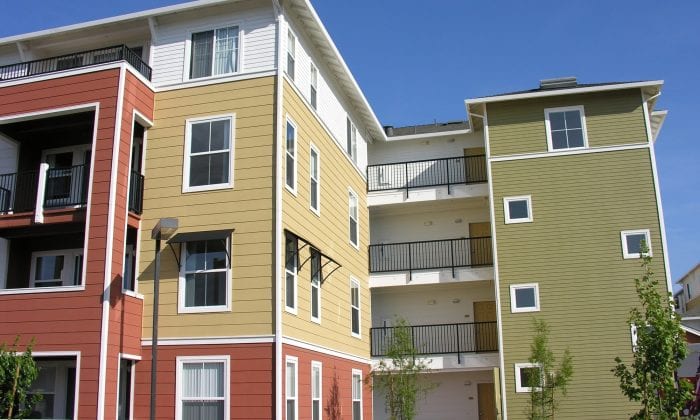 Blog
Selecting Colors for Multi-Family Residential Properties
First impressions last a lifetime, or at least long enough for a prospective resident to drive by. Few exterior characteristics […]
Read On

Blog
Exploring 2022 Color Trends & How These Trends Might Look On Your Building
When thinking about color trends for 2022, you can expect to see some changes. Earthiness, rich warmth, and pops of […]
Read On

Blog
6 Things to Ask Your Commercial Painting Contractor
Know when to call for help First impressions are everything in business. When potential clients pass by a place of […]
Read On