Case Study
Repainting Village Oaks in Tampa, Florida

Village Oaks, a multi-family community in Tampa, Florida, was seeking a professional painting, coating, and repair partner to help them address their needs. This included things like repainting each building's exterior for additional protection, some stucco repairs, and a color change for a refreshed look. The main purpose of the project was for them to brighten their multi-family community and ensure each building was well maintained. The project posed some challenges, including our team addressing needs that weren't included in Village Oaks's original scope of work and making sure we completed work without major disruptions to residents.
Conditions
We completed this project for the Village Oaks multi-family community at the right time. The property was definitely in need of a repaint because its color scheme was outdated and the surfaces were chalky from old paint coatings being exposed to UV light for too long.
Challenges
The key challenge our team faced while completing this project was accommodating additional work needed that wasn't included in Village Oaks's original scope of work. This included things like painting balcony railings and walkways around the property. Our team also worked diligently throughout the entire project to limit resident disruptions and maintain a safe and clean working environment.
Process
Scope
Our team worked with the Village Oaks multi-family community to learn more about their upcoming project and the specific needs they wanted addressed. This helped us better understand what was driving the project, why they wanted to complete it now, and what outcome they were looking to gain from the completion of their project. Ultimately, they wanted to repaint and recoat their buildings for a more modern appearance that could offer better protection for the property.
On-Site Analysis
We met with them on-site to examine and evaluate the needs of each building in their community. This allowed our team to ensure that everything would be addressed, even down to the smallest details, and that we'd be able to provide high-quality, long-lasting results the community could enjoy for years to come. 
Note: This is where we realized additional items may need to be painted.
Proposal
Our team shared what we found based on our initial scope discussions and on-site analysis. The Village Oaks community could then better understand the costs associated with their project, what types of paint or coating products are necessary, and the warranty they'd have once the project was completed.
Pre-Construction
Prior to beginning work on-site, our team introduced who would be the community's main point of contact throughout the duration of their project and made sure everything was coordinated.
Scheduled Communication
Throughout the duration of the project, our team provided detailed communication to help the property and its residents stay aware of what was happening at each project stage. This was especially important because we needed to paint, coat, and repair many structures, including:
Painting and/or Coating
Fascia
Soffit
Siding
Trim
Signs
Gutters and Downspouts
Garage Doors
Shutters
Entry Gate
Patio Railings
Doors and Frames
Stair Systems
Light Poles
Pool Fencing
Repairing
During the project, our team used primer, topcoat, and sealant products to address the individual needs of each building.
Whether we were providing photographic or verbal updates, our team made sure the Village Oaks property had all the information they needed to feel confident in the progress of their project.
Final Walk
Once all the painting, coatings, and repairs were implemented, we did a final walk-through around the multi-family community to make sure the project outcomes were predictable and met their expectations. Our team was very pleased to see the Village Oaks property team so pleased with the results.
Timeline
From start to completion, our team was able to complete this project on time within a three-month timeframe. This allowed us to not only provide Village Oaks with predictable outcomes, but also a predictable timeline.
Outcome & Benefits
The new paint, coatings, and repairs our team implemented gave the Village Oaks multi-family community a brighter, more modern, refreshed, and well-maintained look.
"Renovia came highly recommended from the Nashville Regional Service Director for MAA, Billy England, so I decided to use them for Village Oaks exterior paint and they exceeded all expectations from communication, efficiency, and quality, I will continue to use Renovia for my large paint projects in the future. Many Thanks go to Ben Lombardi, Steve Tryon, and Waylon for a great team effort and quality product."
Regional Services Director, MAA Communities 
They were so pleased with the outcome of their project that we received a 10/10 net promoter score, as well as additional opportunities to work with MAA Communities at other properties they own.
Our team is always happy to assist with your painting, coating, and repair needs. Connect with our team today to learn more about how we can help!
Related Content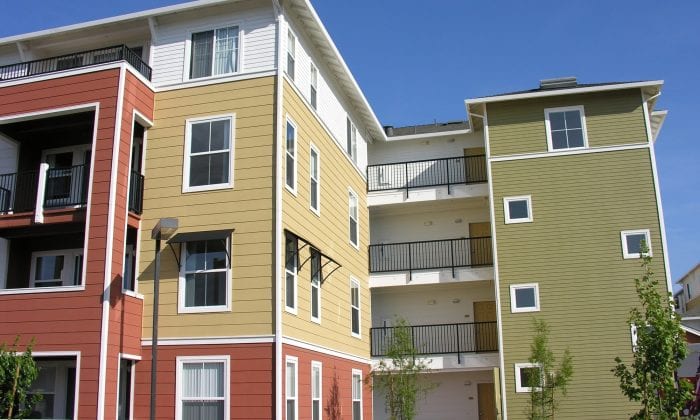 Blog
Selecting Colors for Multi-Family Residential Properties
First impressions last a lifetime, or at least long enough for a prospective resident to drive by. Few exterior characteristics […]
Read On
Blog
Growing Commercial Painting Company Announces New Baltimore/D.C. Office Location
With explosive growth of 56% YOY, Renovia announces the opening of an office in Baltimore/D.C. to better support growth and operations […]
Read On
Blog
Color Selection: What your living community can do and look for
With our decades of experience helping clients transform their multi-family properties, we understand the importance of selecting the right colors. […]
Read On