PROTECTING YOURSELF FROM WATER DAMAGE
Whether you're looking for preventative waterproofing like coatings, glazings, sealants and caulking or restorative waterproofing like EIFS repairs and retroactive caulking, our team is ready to provide predictable outcomes for any upcoming project. We serve a broad range of industries and use top-of-the-line products to protect your building for years to come.
WATERPROOFING CONSIDERATIONS
Waterproofing your property is no simple task. There are a number of considerations our team reviews on every single waterproofing project to ensure precision and accuracy of the project. The most common factors include:

Joint Width




This may sound like common sense, but no two joints are exactly the same size. This can inadvertently leave your building exposed to water or moisture. Different width joints could even require different materials types or sizes used on the project. Our team of skilled experts knows how to ensure your building is going to be protected from leaks by properly identifying the problem areas and then knowing the correct material to apply to fix it. 

Exterior Insulation & Finish System (EIFS)




EIFS is a multi-layer insulation board — made up of a foam insulation board, a coat of synthetic stucco, fiberglass mesh, and then a topcoat. EIFS are a non-load-bearing cladding system that provides exterior walls with an insulated, water-resistant finished surface. It is also less likely to crack than traditional stucco because of the mesh netting that reinforces the base layers.

Commercial Painting & Waterproofing Products




Every commercial painting project should include some level of waterproofing consideration. Outside of the obvious water stains and mildew, using specialized coatings like Elastomerics on a commercial painting project can help protect your property from water penetration and structural damages caused by moisture intrusion. 
COMMON PITFALLS ON WATERPROOFING PROJECTS
When it comes to protecting your buildings with waterproofing services, our team is keenly aware of the common challenges that arise for property managers. The specialists at Renovia have experience supporting all of the following conversations and pitfalls:
Partial replacement vs. full replacement

Tracking joints completed

Potential warranty claims if coatings are applied 

Property appearance vs. different substrates used

Difficult to reach joints that require additional access

Warranties considerations (new vs existing coatings)

Adhesion/pull test lead time (min. 10 days) 
Thankfully, our experienced team of waterproofing experts is there to help you through every step of the way. Start a conversation with a Renovia team member about your upcoming waterproofing project today.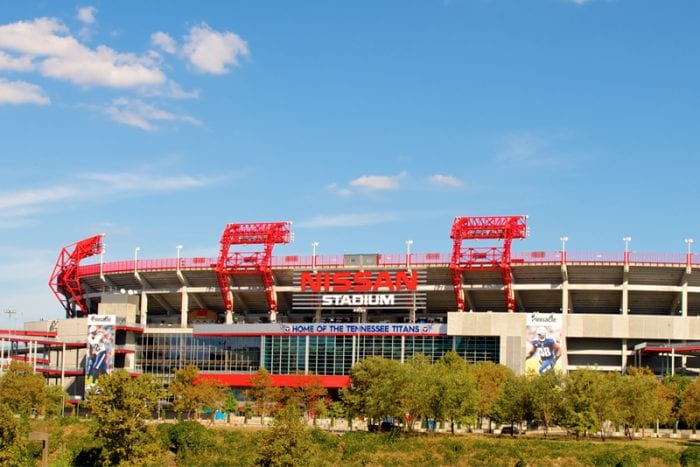 Case Study
Nissan Stadium
The Tennessee Titans football stadium in Nashville, Tennessee, was from a distance, unremarkable. Because of its sheer size it was noticeable as part of the city's skyline, but aesthetically it left little impression. Stadium executives knew they needed the structure to deliver more impact.
See The Project
The last few years, I've been relying heavily on Renovia for all my painting needs at assisted living facilities throughout the southeast. From their professionalism at every level to their consistent quality across multiple sites to their project management and execution — Renovia has been and will continue to be a trusted partner.
― Scott L., Assisted Living Regional Manager, National Healthcare Provider
Renovia's excellent communication and project management provided a hassle free experience for me and my tenants. Based on their reliability, workmanship and competitive pricing I can confidently recommend them as experts in their field.
― Nick B., General Manager, National Outlet Center
Renovia completed both interior and exterior projects for us this past year. These projects were completed within the timeframe allotted and there were no issues in execution. Communication, service and execution exceeded our expectations. Based on their performance in our portfolio, I would highly recommend Renovia for consideration in a national paint program for retail establishments.
― Sara G. - Manager - National Retail Establishment
RESOURCES
Paint vs. Coating, What is the Difference?
As facility and property managers, your job requires you to make decisions on when and how to maintain, upkeep, and […]
Read Now
Paying It Forward In 2022
Every year our team of Renovians and our customers rally together to give back to organizations in the communities where […]
Read Now
2023 Commercial Color Trends🎨
Keeping your commercial properties up-to-date with color trends can be important, especially if you want to draw more attention to […]
Read Now