Blog
7 Reasons to Repaint Your Commercial Property This Year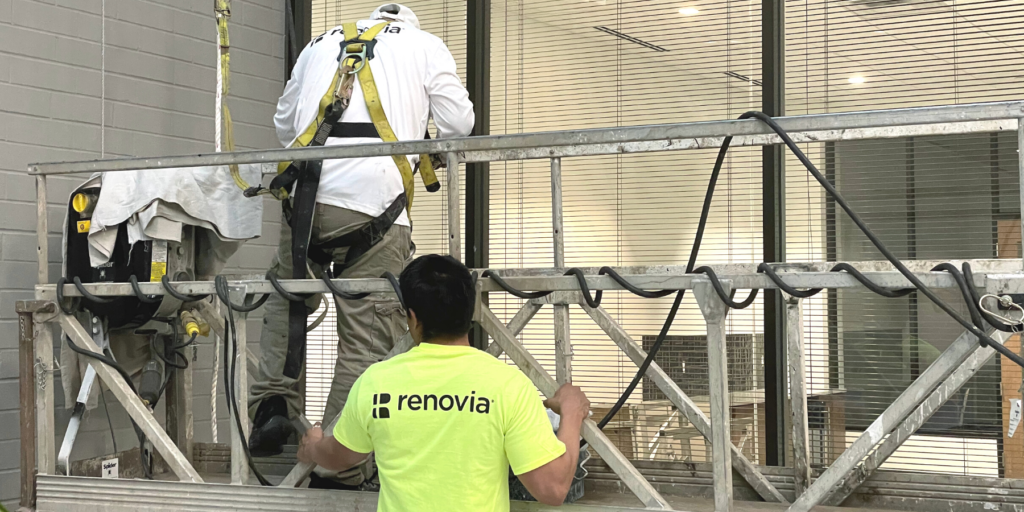 Commercial painting is so much more than changing the color of a wall. Repainting your commercial property can breathe life into an old building, invigorate your occupants in their place of work or residence, or dramatically improve your building's curb appeal. Commercial painting projects offer our customers an opportunity to transform their building at a fraction of the price tag of a major renovation or addition.  
What many people don't know is that business owners or property management groups should consider repainting their property buildings every 7-to-10 years. Below we rounded up seven major benefits to repainting your commercial property buildings so you can make an informed decision on any upcoming commercial painting or capital improvement projects.
1. Improve the Curb Appeal
One of the most important (and noticeable) ways to assess building value is through the general curb appeal of your commercial property. While landscaping, lighting, and fixtures all make an impact, a fresh paint job can be a real gamechanger. Repainting your property can make or break a decision as you look for future tenants, extend existing leases, or potentially put your building on the market. 
2. Increase Foot Traffic
Foot traffic is an incredibly important metric for commercial properties. It's a barometer that allows you to measure and evaluate demand, property access, and the visibility of the location. It's especially relevant for retail businesses and restaurants who are trying to entice pedestrians or tourists into their business. Having a fresh coat of paint on your building creates a wow factor, inviting those same pedestrians to slow down, take in the view, and potentially stop to engage with the businesses at your building.
3. Repair Any Exterior Damage
Commercial painting projects also present a great opportunity to repair or replace any damaged or faulty facade issues. At Renovia, we perform a wide array of restoration services on commercial properties, spanning from EIFS, stucco, and masonry to wood replacement. Similar to our normal commercial painting process, the exterior of the building needs to be cleaned and prepped for the repaint – these restoration services are a natural fit in the process, and can be handled by our team of professionals who have extensive experience in these specialized services. and can be handled by our team of commercial painting professionals. 
4. Prevent Future Facade Damage
On the other hand, regularly painting your commercial property is an important component of preventative maintenance. Two of the greatest threats to the exterior of your building are water and weather. When done right, painting your building can keep moisture out of your building, prevent mold or mildew, and provide a necessary barrier between the interior of your building and the outside world. Neglecting to repaint your property or choosing an unskilled contractor could result in damage that requires more costly repairs than just a repainting. 
5. Maintain or Increase Property Value
Whether you're looking to put your property on the market or you're looking to maintain your current investment, repainting your commercial building is a great way to increase property value. Not only do well-maintained buildings retain property value better, it makes your property more enticing for customers, future tenants, or potential ownership groups.
6. Keep Up with the Jones
First impressions are everything, so when your potential customers or tenants are choosing between you and a competitor, be sure that you're starting on the right foot. Keeping up with your competition is just one more reason why regularly scheduled upkeep and property maintenance like a paint project can set you and your property apart. Another way to stay a step ahead is to closely follow the color trends for your specific industry. Sherwin-Williams 2022 Colormix® Forecast is a great resource as you look to get a competitive edge with modern, on-trend color palettes for your property. 
7. Boost Moods & Raise Morale
Did you know that there is a practice called "​​color psychology"? Widely used in marketing and branding, this is the study of color hues' effect on human behavior. For example blue signifies stability and safety, while white conveys an aura of fresh, clean, and modern. This is important for both external customers and your existing occupants. While often overlooked, the morale of your occupants should absolutely factor into your decision to repaint your property. The colors you ultimately choose can express trust, security, creativity, and even happiness. Learn more in our recent blog post on how color evokes emotion.
When was the last time your organization repainted your commercial buildings? If some of these benefits hit home, it may be time to start planning an upcoming commercial painting project. Reach out to a commercial painting expert and start a conversation about your potential project today! 
Renovia also has a full suite repair services — ranging from sealants and waterproofing to pressure washing and EIFS — that could benefit your property in countless ways. It's time to find the predictable painting and repair outcomes that you and your property deserve.
COMMERCIAL PAINTING BUYING GUIDE
We know it's sometimes hard to differentiate one painting contractor from another, but there's a lot riding on this decision. It's up to you to make the best choice for both your commercial property and its occupants. Download the guide at the link below to find all the important questions you need to ask as you look for your next commercial painting partner.   
Related Content
Blog
What's the Best Season to Paint Commercial Properties?
So, When is it Best to Paint Your Commercial Property? A commercial exterior painting project requires extensive planning to ensure […]
Read On

Blog
6 Things to Ask Your Commercial Painting Contractor
Know when to call for help First impressions are everything in business. When potential clients pass by a place of […]
Read On
Case Study
Transforming 12th South Flats in Nashville, Tennessee
12th South Flats, an apartment complex ‌in Nashville, TN, was seeking a professional painting, coating, and repair partner to help […]
Read On